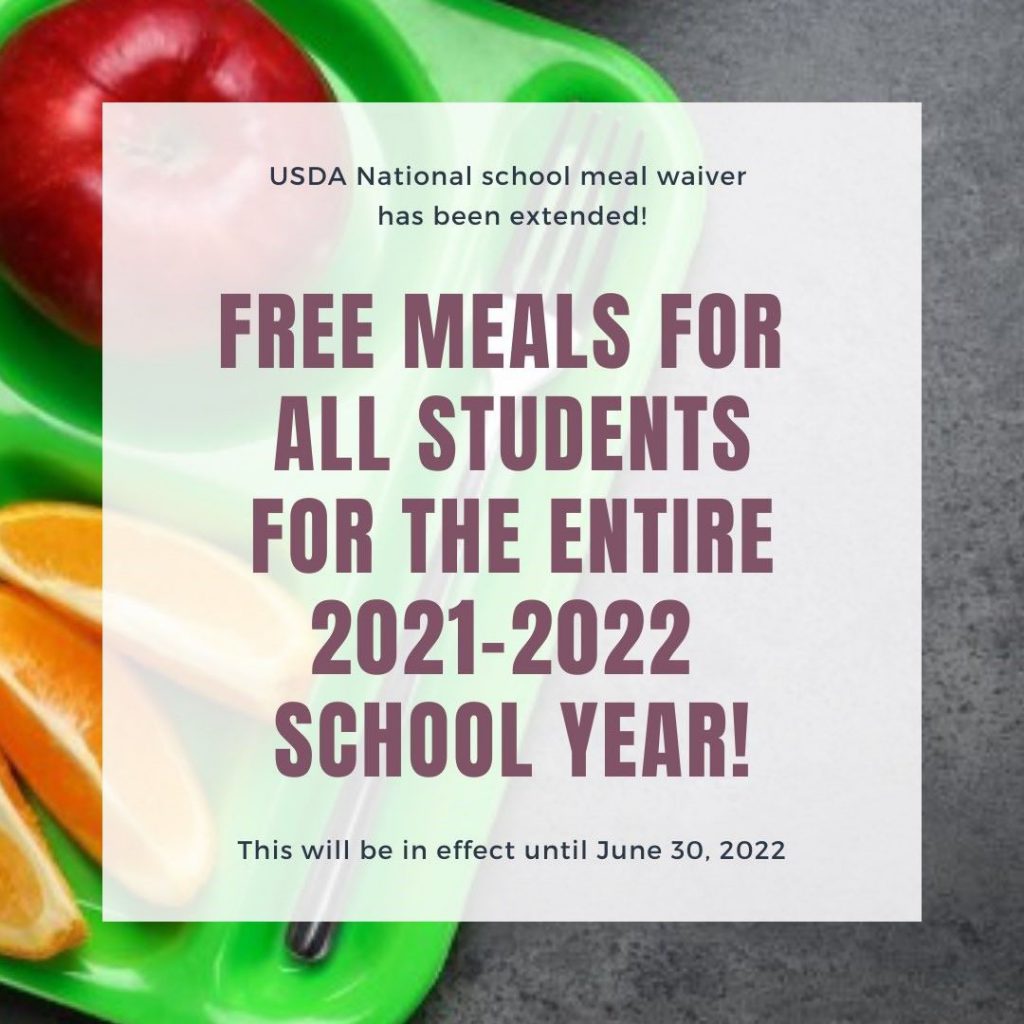 All enrolled students of the Pine Bush Central School District are eligible to receive one complete, nutritious breakfast and lunch each school day free of charge for the entire 2021-2022 school year.
The Pine Bush Central School District will be participating in the Seamless Summer Option (SSO) in the 2021-2022 school year.  This program is available as part of the waivers issued by the USDA on April 20, 2021.  
Student Pricing                                  September 2021 – June 2022
Complete Breakfast                                       $ 0.00
Complete Lunch                                             $ 0.00
Packed lunch power "Pack"                          $ 0.00
Milk (Ala Carte)                                               $ 0.50
Water Bottle 16oz (Ala Carte)                       $ 1.00
Packed Lunch "Power Pack"  
New this year, if parents are choosing to send in a home-packed lunch with their child, they can add a packed lunch "power pack" free of charge.  This includes fruit, vegetable, milk and sides that meet the NYSED Child Nutrition Meal Pattern guidelines and create a super nutritional lunch free of charge.  (Students must take all of the items offered or it is required to be charged a la carte pricing.) 
The School Nutrition Department's mission is to provide for the nutritional needs of all children and this option helps further promote their health and well-being.
Smart Snack Approved Items
In an effort to improve the health and wellness of PBCSD students, our goal is to provide students with healthy snacking options. All items sold meet the nutritional standards established by the USDA guidelines.
All student accounts are set up "restricted" to using prepaid funds for a la carte purchases (except milk and water bottles), unless written permission is provided to authorize this change. This permission is only needed once and at any time can be reset or modified. To grant permission for your student, email lyn.prestia@pinebushschools.org, with the subject line "Prepaid funds for snack purchases," or complete and return the Lunch Account Restriction Form.
Nutrislice 
The School Nutrition Department continues to bring technology to the forefront of your children's dining experience to help students prioritize healthy food choices and understand ingredients. Through Nutrislice, students, parents and faculty have access to school menus, including nutrition information, allergens and photos available on desktop and mobile devices.  
Our commitment to your children starts with our menus that are planned using culinary knowledge and innovative menu strategies. Helping students achieve academic success is what drives our passion. We work with local farmers to offer a wide variety of fresh, local, seasonal fruits and vegetables. As we further the effort of scratch cooking, using standardized recipes and fresh ingredients, we continue to look for ways to expand the menu, choices, and food presentation for our students. 
Click on Nutrislice to see what's for breakfast and lunch!
Paying for Additional Meals, Snacks
While one breakfast and lunch meal will be provided free of charge each day per student, additional breakfasts/lunches, lunch a la carte, snack items and drinks are not part of the free meal program.  These items, if offered, can be purchased utilizing your student's prepaid myschoolbucks.com account and cannot be charged due to lack of account funds. Prepayments are preferred by check, but cash is accepted. 
Please note: Online prepayments are charged $2.79 per transaction by www.myschoolbucks.com.
Please Complete the Free/Reduced Funding Application to Support School Funding
While there are no qualifications this year, we are asking each family to complete the family application to support school funding so schools can receive additional funding for our student programs.  The application can be found at www.myschoolapps.com.
The annual meal application form is one direct measure for Title 1 funding. Although meals are free this year, we ask that all Pine Bush families whose children are not directly certified and have not completed this year's application, to take a few minutes and complete the process at the  www.myschoolapps.com website, even if you are not receiving meals.
The purpose of this funding is to provide all children the significant opportunity to receive a fair, equitable and high-quality education. 
If the application is approved, families may also realize a potential reduction of expenses related to Advance Placement classes, standardized test fees and before- and aftercare school costs.
When your children participate in school meals, you are also providing financial support to our School Nutrition Department, which allows us to continue feeding students, purchasing food and supporting staff wages.
If you would like to submit a paper application, they are listed on the right under Links, Support School Funding.
Good Nutrition, Excellent Health are the Goals
The School Nutrition Department believes that one of the most important ways we can help our children perform better is to provide them with the nutrition necessary for healthy growth. Therefore, we provide breakfast and/or lunch in our schools every day and ask that all staff show their support for their school nutrition program through encouraging participation in our program.
Our goal is to ensure that we serve healthy, well-balanced meals and that our customers enjoy what they eat. We recognize that meals need to be exciting and delicious, built with quality foods and fresh ingredients designed to energize and satisfy students on-the-go.
We are eagerly preparing for a new school year together and the School Nutrition Department has worked hard to design a meal program to meet your child's individual needs. Your children will have plenty on their mind with classes and activities, so you don't have to worry about them finding something great to eat or having money to pay for meals. 
On behalf of the PBHS Nutrition staff we want to THANK YOU and welcome you back to school. 
Contact Us
Should you have any questions, feel free to call Lyn or Judi at the School Nutrition Department at (845) 744-2031 ext 2809.