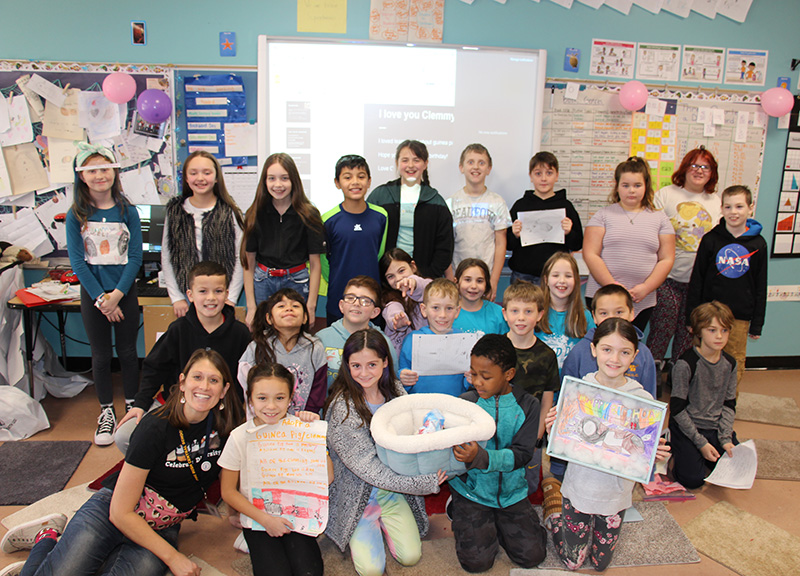 Special programs include the Special Education Programs and 504 Accommodation plans, as well as several other grant-funded programs.
Our services are guided by the District's Special Education Plan. There are many special education teachers, teacher assistants, and monitors housed on the district's campus. Students also benefit from the services of school psychologists, school counselors, social workers, occupational therapists, physical therapists, speech therapists, nurses and a behavior specialist. While it is always the goal of the district to service our students in their home schools, some of our students, who have more specialized needs, attend BOCES programs or other out-of-district placements.
---
Special Education Program
Depending on the needs of our students, we offer a continuum of special education services at all grade levels. Our continuum includes related services, resource room, integrated co-teaching, and special classes in core academic areas such as ELA and Math.
The services we provide are governed by the policies in Part 200 and 201 of the New York State Commissioner of Education Regulations. Our programming is designed to help students progress toward achievement of the New York State learning standards. We also help to prepare students for transition into post-secondary education and/or employment.
Read the Pine Bush Central School District Special Education Plan for 2022-2023 to 2023-2024 here.
Here is a list of acronyms commonly used in special education.
---
Response to Intervention (RTI) Information for Parents
If you have concerns with how your child is progressing in school, you may ask your building principal about Response to Intervention (RTI).
RTI is a multi-tiered systematic approach to providing students with interventions. These interventions are in place for up to six weeks per tier while progress is monitored. If a child does not respond to these interventions, a referral is made to the Special Programs Office. RTI must be in place for students in grades K-4 prior to being classified as a student with a disability.
---
Out-of-District Transportation for Students with Individualized Education Plans 
For students attending out of district private schools based on their individualized education plan (IEP), please note the following regarding transportation:
If the district where the private school or BOCES the child attends is open, but Pine Bush

is closed, transportation is provided, except when Pine Bush  is closed due to weather.

If the district where the private school or BOCES the child attends is closed for any reason, transportation is not provided.
Whenever Pine Bush is closed due to weather, transportation is not provided.
Please contact the Transportation Department at 845-744-2031, Ext. 4057 if you  have questions regarding transportation of your child. 
---
Committee on Preschool Special Education (CPSE)
The Committee on Preschool Special Education (CPSE) addresses the needs of children ages 3 to 5 with disabilities. 
Click here for information about CPSE registration.
What is Preschool Special Education?
The New York State Education Department (SED), Office of Special Education
oversees a statewide preschool special education program with school districts, municipalities, approved providers and parents. Evaluations and specially planned individual or group instructional services or programs are provided to eligible children who have a disability that affects their learning. Funding for these special education programs and services is provided by municipalities and the state.
If your child received early intervention services as an infant or toddler up to age three, and may still need special education, your service coordinator will assist you with transition planning and making a referral to the Committee on Preschool Special Education (CPSE).
If your preschool-age child (3-5 years old) did not receive early intervention services, but has some delays or lags in development such as difficulty in talking, moving around, thinking, or learning or is facing physical or behavioral challenges — you, or professionals who know your child, may make a referral to the Committee on Preschool Special Education (CPSE) who will assist you in completing the referral process.
---
Notice of Procedural Safeguards
School districts must provide a copy of the notice of procedural safeguards at least once a year to parents (or persons in parental relation) to a student with a disability.
Part B: Procedural Safeguards Notice
In addition, a copy of the procedural safeguards must be provided to parents upon:
An initial referral or parental request for evaluation;
The first filing of a due process complaint notice to request mediation or an impartial hearing;
At the request of the parent;
Following a decision to impose a suspension or removal that constitutes a disciplinary change in placement; and
On receipt of a parent's first State complaint in a school year.