Students at Crispell Middle School are in for a major treat. Beginning Wednesday, Feb. 1, the weight room in the Crispell basement will be open for physical education classes and student athletic groups.
"Our gym classes will use this every day," said Principal John Boyle. "Our teams can use it after school too."
Mr. Boyle explained that former Pine Bush football coach Jim Wright and his family got the weight room going at Crispell about a decade ago. However, about five years ago, the room had a water back-up that ruined the floor and the contents of the room.
After the issue was resolved, it took some work to make the room usable again. A big shout-out to Jim Licardi and his crew who put in the floors. Thanks to generous donations from Dick's Sporting Goods, the weight room is stocked with kettlebells, dumbbells, weight benches and a NordicTrack bike. There are yoga mats and plenty of room for yoga classes.
And to make it even that much better, Students Making a Difference Club members painted inspirational murals in on the walls to encourage all who use it.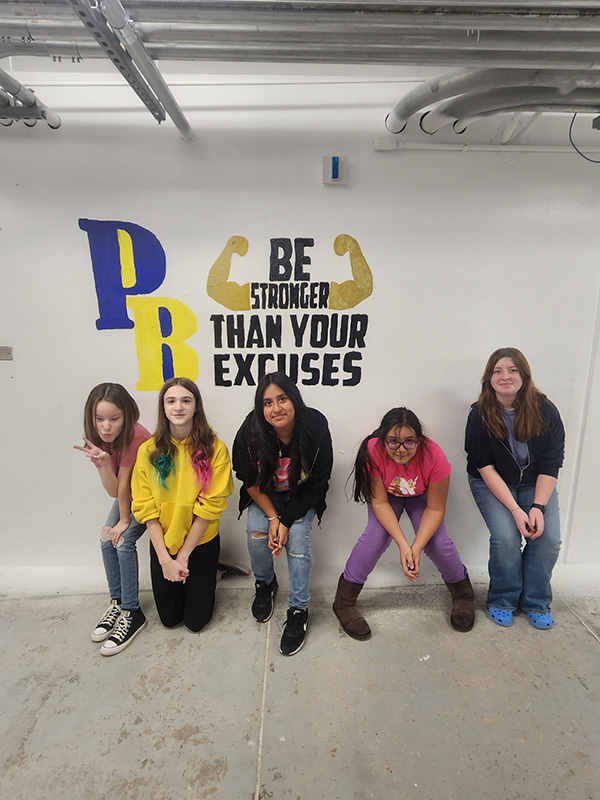 "We are so grateful to everyone who made this happen," said Mr. Boyle. "Our students will benefit tremendously."