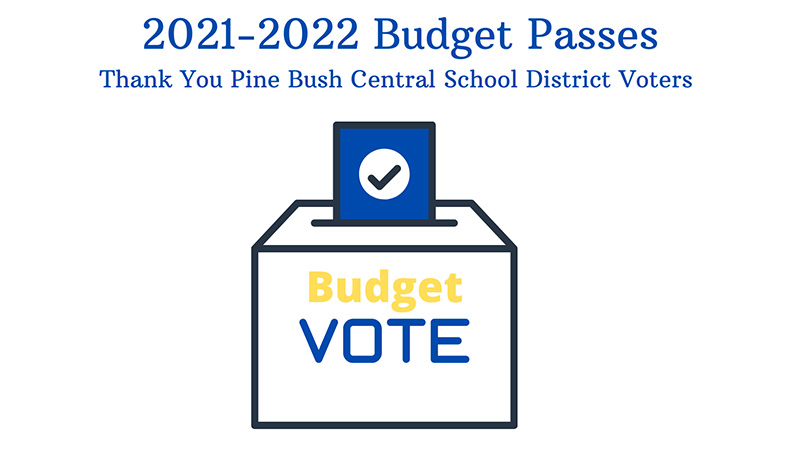 Pine Bush Central School District voters approved the $125,891,597 budget, with 75.93 percent of voters supporting the spending plan.
This year's budget included a tax levy decrease of $1,848,127 or 3 percent.
Incumbent Ross Tompkins retained his seat on the board of education. Tasha T. Butler captured the other open seat, currently held by Kristin Graessle who chose not to seek reelection.  Marie Brevil was the third candidate. 
"I want to express my gratitude to the residents of the Pine Bush Central School District," said Superintendent Mains. "Your support of our students and our district is tremendous, year after year. This year has been challenging on many levels. Our teachers, staff, administrators, students and parents have done so much for our children's well-being and education. 
"I also want to congratulate Ross Tompkins and Tasha Butler on their victories, and I welcome Tasha to the board of education as its newest member," said Superintendent Mains. "I thank all three of our candidates for offering up their service to our district. I also want to thank Kristin Graessle who chose not to run again for her service. "
This budget increases spending by $4,304,440 or 3.54 percent but, due to an increase in state and federal aid, as well as the use of more than $3.5 million in fund balance, the district was able to provide relief for taxpayers with a 3 percent decrease in the tax levy.
State aid accounts for $60,712,628 in the budget. The tax levy provides $59,756,092. This is the first time in a decade that state aid funded more of the district's budget than local taxpayers, something Superintendent Tim Mains said corrects a long-standing imbalance.
"The projected increase in foundation aid over the next three years puts us in a position where we can adjust the tax levy to be below the level of funding provided by the state," said Superintendent Mains.  "We feel since the state is giving us more, we should ask taxpayers for less and that is why we can decrease the tax levy by 3 percent.  I am so pleased that our board and administration has the support of our wonderful community."
Budget Vote/Board of Education Election Unofficial Results
Budget
Yes – 884
No – 279
Board of Education
Tasha T. Butler – 755
Marie Brevil – 593
*Ross Tompkins – 741
* incumbent