No Place for Hate is woven throughout our district
All students in the Pine Bush School District take the "No Place for Hate"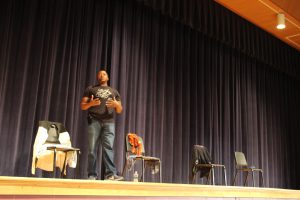 pledge each school year.
"I promise to do my best to treat everyone fairly.
I promise to do my best to be kind to everyone – even if they are not like me.
If I see someone being hurt or bullied, I will tell a teacher.
Everyone should be able to feel safe and happy in school.
I want my school to be NO PLACE FOR HATE."
Not only do they take the pledge, they learn exactly what it means. That was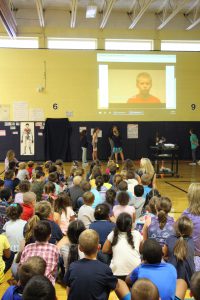 on display at Edward J. Russell Elementary School as students described what the words of the pledge meant to them at a school-wide assembly. They also produced a video, which can be seen at pinebushschools.org.
At Pine Bush High School, No Place for Hate kicked off with two powerful presentations from Dr. Mykee Fowlin. Freshmen, sophomores and S.T.A.R.S. Academy students watched as Fowlin presented "You Don't Know Me Until You Know Me."
Juniors and seniors gathered to see "I Am Not The Enemy."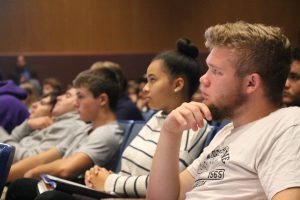 Fowlin, a performance artist, psychologist, poet and motivational speaker, portrays several different characters in his presentation, all seemingly very different but, as Fowlin performs, you see just how interconnected they all are. Just as we are. Actions have consequences, is his message. "Sometimes we do the most hurtful things even though we don't intend to," said one of his characters.
"Don't be looking for your enemy," Fowlin told his audience. "Find your connection."
When Fowlin completed each of his presentations, students mulled around, waiting to speak with him. Their emotions were raw as they hugged him, cried and thanked him.
London Williams, a sophomore, was moved by his presentation.
"You were great. Thank you," she called out to Fowlin. "His characters speak to me. It was so inspirational and made me think. You should talk to people about how you're thinking. I'm the type of person, if I see something wrong, I'll say something. But now, I'll do it even more."
No Place for Hate is a program from the Anti-Defamation League helping schools to combat bias, bullying and hatred, and teaching long-term solutions to create a positive climate.