Congratulations to our Pine Bush Varsity Volleyball team in capturing the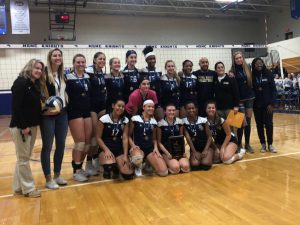 Section IX championship this week. The team defeated Kingston and now heads to Corning Thursday, Nov. 8, to play Binghamton in the regional semi-finals.
"We have worked very hard to regain the Section IX title," said Coach Melyssa Amelio, who said the team learned some valuable lessons from their regular season losses. "They allowed us to work hard on our weaknesses and capitalize more on our strengths."
The team had split with Kingston during the regular season but for the section title, Pine Bush swept them in three sets.
Some season highlights:
Taylor Pannell leads the team with a hitting average of .462 and 80 blocks.
Emily Bott has the second highest hitting average of .228 and has 37 service aces.
Shelby Eller (Libero) leads the team with 213 digs.
Leading the team in assists are Taylor Jones with 331 and Nicole Dziados with 302.
Good luck in Corning!