The Pine Bush Central School District has partnered with Paper, an online tutoring service, to give students in grades 6 through 12 the ability to access live tutors seven days a week, 24 hours a day.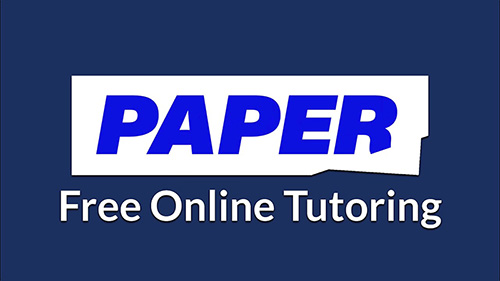 The service begins Tuesday, March 22, and is funded through the American Rescue Plan grant.
Whether students are stuck on homework, studying for a test, or need someone to read and make suggestions to their essays, there will be experts available online to assist students in all academic subjects in English, Spanish and French.
"This partnership with Paper will be an excellent resource for our students in the secondary grades," said Assistant Superintendent for Instruction Amy Brockner. "They will benefit tremendously from having tutors who can help with a single question or a complicated essay inquiry, anytime they need it."
Paper tutors are trained to conduct expert, academic support in a secure, chat-based platform. They'll never give students answers, but rather interact with an encouraging tone to help lead them forward. Students are matched with tutors within 15 seconds of their request. All interactions between Paper tutors and students are recorded.
In addition to students, Pine Bush teachers also have Paper accounts and will have the ability to review all student activity with their tutors.
Parents and guardians are encouraged to sign in with their child to see what Paper has to offer and to sign up for a parent information session here. Parents may also reach out directly to a member of the Paper team by emailing parents@paper.com.
To get started, students should go to the login page: https://app.paper.co/login/student. Then, type your school's name and log in via Google using your Pine Bush email credentials.
Students can watch an introductory video here.
Here is what Paper provides:
Instant and unlimited 24/7 tutoring support through chat in English, French and Spanish
Unlimited annotated essay review
Accessible on any device
All interactions recorded and transparent to the schools/district
Unlimited Professional Development and support