There were many proud parents and students at the Jan. 8 school board meeting as the Pine Bush Board of Education honored its fall scholar athletes,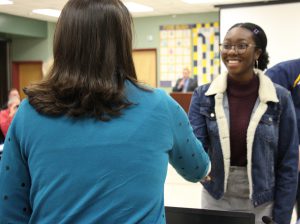 all 124 of them.
In order to be considered a scholar athlete, students must maintain a 90 or above overall grade point average in the classroom and compete on the varsity level.
Pine Bush also recognized its eight fall scholar athlete teams, where 75 percent of the members are scholar athletes, per the New York State Public High School Athletic Association. Those teams include girls' volleyball, girls' tennis, boys' cross country, girls' cross country, girls' field hockey, boys' soccer, girls' soccer and girls' swimming and diving.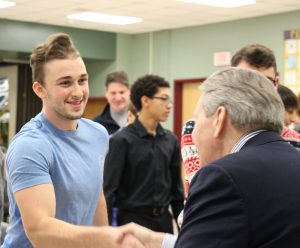 School board Vice President Gretchen Meier noted that this is one of her favorite tasks as a school board member and that the numbers of students and parents attending seems to grow.
"This is my sixth year on the school board and tonight is one of the best jobs I have being on the school board,' said Meier. "It seems like every year we offer this opportunity for you guys to come and get your certificates, more and more kids come back and more and more families come back and the room gets more and more filled. It really means a lot to us. Thank you for taking the time out of your crazy schedules."
"On behalf of the administration, I want to congratulate these young men and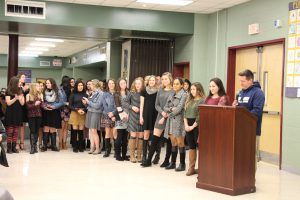 women for their dedication to their academics as well as competing at such a high level on the field, court and pool," said Superintendent Tim Mains. "We acknowledge their achievements and encourage them to continue their academic and athletic pursuits. We are certainly proud of them all."
Pine Bush Scholar Athletes for Fall 2018                     
Varsity Girls Volleyball Scholar Athlete Team Award
Coaches: Melyssa Amelio, Assisted by Jen Evans
Emily Bott
Elizabeth Deckaj
Nicole Dziadosz                                  
Shelby Eller                            
Rileigh Meyer                       
Tiffany Nye                             
Taylor Pannell
AnJalyna Talmadge                              
Elly Taylor 
Varsity Girls Tennis Scholar Athlete Team Award
Coach: Michael Sabini
Kristi Cheung
Julia Dimino
Jenna Fiorentino
Hailey Gundersen
Skye Hall
Julianne Lee
Gianna Nazzaro
Ashley Parkes
Madeline Roche
Jenna Rumsey   
Varsity Boys Cross Country:  Scholar Athlete Team Award
Coach: Al Schmidt
Jonny Aguilar 
Colin Best                                                    
Finian Brown                                                         
Justin Ceiley
James Gellman                                 
Kiyan Hocek                                
Tyler Landivar                            
Brandon Lopez
Matthew Lupinski                                 
Ryan McNamara                        
Alexander O'Flaherty                        
John Parsells   
Aryn Simmons                         
Alan Soto                        
Varsity Girls Cross Country:  Scholar Athlete Team Award
Coach: Gerald Risco
Alyssa Biondi
Abigail Carpenter      
Susan Fernandez
Meghan Herbert        
Kailee Loiodice           
Paige Loiodice
Danielle Lovelace
Brooke Reynolds
Amelia Tremper        
Varsity Field Hockey:  Scholar Athlete Team Award
Coach: Lisa Sorrentino
Helen Deretchin
Brooke Florin
Abigail Halpin
Olivia Lenza                                                                                                           
Lauren Moccio  
Courtney Palmer                                                                           
Courtney Pekusic
Wylaimee Shalders
Jennifer Sorrentino
Melissa Torchio
Kristi Zelonis 
Varsity Boys Soccer:  Scholar Athlete Team Award
Coach: Mike Mancuso, Assisted by Logan Roebuck
Antonio Amelio
Jack Bisaillon
Brendan Conklin
Christopher Corin                  
Blake DelaCruz                      
Vincent Galanda
Joud Ibrahim
Nicholas Kahrs
Gianni Latorre
Jacob Rosenfeld
Jonathan Shaw
Tyler Suchy
Varsity Girls Soccer:  Scholar Athlete Team Award
Coach: Dan Conley, Assisted by Candice Carillo
Gillian DeWitt
Emily Dimino                         
Becky Drumm
Krista Edwards                                   
Isabella Emond                                  
Kayla Grassi                           
Yadaris Guzman                     
Christina Kania                                   
Basma Mahmood                  
Julia Mance                            
Emily McLean
Francesca Mondelli               
Courtney Obregon
Mary Regelski
Isabella Sapio
Madison Schultz         
Varsity Football:  Scholar Athletes
Coach: James Wright, Assisted by: Mike McDonald, Tom Lamandola, and Mitch Silverberg
Mason Bowen
Steven Gage                           
Jonathan Grasso
Antonio Levato, Jr.                             
Donovan Long
Rory Longfield
Gunnar Meland                                  
Haakon Meland
Colin Thorn
Thomas Ulbrich, Jr.
Ethan Velez
Bryan Warren                        
Francesco Wise
Justin Yeadon 
Varsity Girls Swimming and Diving:  Scholar Athlete Team Award
Coach: John Barth, Assisted by: Kathy Gallagher and Michael Reineke
Sydney Bahrenburg
Sara Barry
Olivia Brown
Desiree Burgess
Deanna Caceres
Marcella Caceres
Nina Camacho
Savannah Donaldson
Amanda Eagan
Desiray Green
Mackenzie Gula
Elishka Hajek
Brooke Hornbeck
Sara Ippolito
Antonia Licardi
Sophia Licardi
Anita Licata
Rebeca Lockward
Ashley Martin
Nicole McCord
Samantha McKee       
Madaghan O'Shea
Abigail Pearson
Katherine Sassi
Ava Schultz
Melanie Tique Diaz
Gillian Valdez
Payton Vellenga
Katie Webster