PB Cares! We certainly do! Pine Bush schools participated in the larger county-wide letter-writing program to show frontline workers that we see what they are doing and we appreciate all they've done throughout this pandemic.
The district put out the call before the winter break about the project, asking families and teachers to participate by writing letters of thanks and support to healthcare workers, first responders, grocery store workers, nursing home employees and other essential workers who have continued to work diligently throughout the pandemic and kept things going for all of us.
Donna Geidel, acting superintendent, reported that we collected 500 letters and delivered them to ShopRite in Middletown to distribute. The very grateful customer service manager that accepted them was a Pine Bush graduate, Adalia Olsen!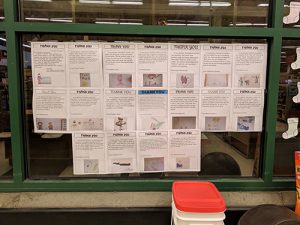 Amy Green's second grade class at Pine Bush Elementary chose to write to the employees at Hannaford Supermarket. The employees there enjoyed reading the children's letters and even displayed them in the store for all to see!
Thank you Pine Bush for showing how much we all care! Stay safe.