Two Pine Bush High School seniors – Kate Fowler and Kiera Masci – were among 34 high school students honored by Orange-Ulster BOCES at its 2023 Humanities Honoree Awards Ceremony and Breakfast.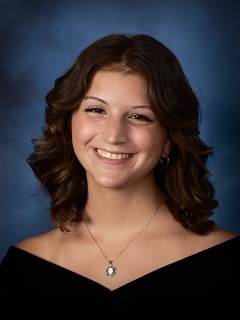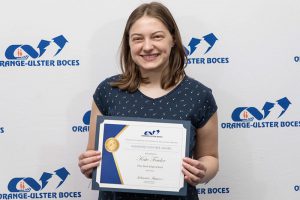 The students being honored have distinguished themselves in the arts and humanities. This event celebrates seniors and juniors who have stood out amongst their peers by showing an impressive dedication, skill, and commitment to the arts and humanities.
Kate Fowler is a prolific artist whose artwork has been celebrated and showcased within the district and well beyond. She is a member of the National Art Honor Society and her impressive design skills earned her the win for the Visual Arts T-Shirt Contest. Kate will attend SUNY New Paltz in the fall to pursue a degree in painting and drawing to fulfill her aspiration of becoming an illustrator or working in set design.
Kiera Masci is a brilliant flutist who performs at school events as well as many venues. She has excelled both academically and musically throughout her high school career earning a scholarship for All County and recognition for participating in All Eastern 2023, All State 2022, Honor Band 2022, All State Alternate 2021 and NYSSMA Flute and Voice. She has also participated in the school musicals beginning in middle school. After high school, Kiera plans to attend college to study vocal performance.
Each high school and the BOCES nominated two students to be the recipients of this award. The honorees and their guests enjoyed a special breakfast held at the Country Club at Otterkill on April 13 to celebrate the students' outstanding accomplishments in the fine arts, performing arts, and the humanities.
The keynote speaker for the event was local architect, artist, and sculptor Amy Lewis Sweetman, founder of Agrisculpture. The mission of Agrisculpture is to create metal sculpture, informed by nature and farm equipment, to restore the Earth by foraging abandoned agricultural machinery as media and to teach environmental awareness. Ms. Sweetman urged the Humanities Honoree awardees to "Never give up – always give back, and see all 'problems' as design opportunities!"
Congratulations to Kiera and Kate on this well-deserved recognition!