The students at EJR Elementary School kicked off No Place for Hate with thoughtful discussion and a promise to be kind, accepting and respectful to each other.
The 5th grade news team produced a video about what the promise means to them. All EJR students viewed the video and discussed just what it means to them.
The spirit of No Place for Hate wasn't limited to the students and staff of EJR. At the annual open house, the fifth grade representatives even got families to sign the promise.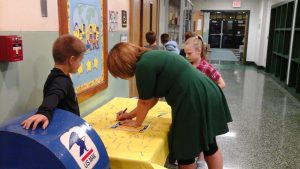 The signed banner is proudly displayed near the greeter's desk.
Start With Hello
All elementary schools in the district participated in Start with Hello, a program from Sandy Hook Promise to help end isolation and loneliness among students. This was a week-long series of events for students.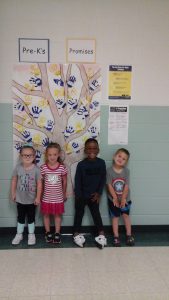 On Monday, students had an interactive read-aloud of the book "Say Hello." Tuesday, all students wore name tags and encouraged to greet someone new by name. Wednesday brought an international flair as each class received a poster showing "hello" in different languages. The students were excited to speak the word in many different languages.
On Thursday, students participated in Greeting Day. Each class had a morning greeting poster showing many different ways to greet others, for example, handshake, hug, high five and fist bump.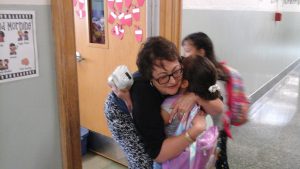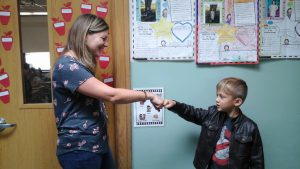 On Friday, smiles were the look of the day. Each student received a "smile" card to give away to someone. It showed them just how much their day could be brightened by having someone smile at them or by making someone s