Seventh grade students at CVMS's Draco Academy had the honor and opportunity to speak with three veterans recently. Of course this special meeting was to mark Veterans Day, but it was an incredible learning experience for the students as well.
Three local veterans – Jim Scali (Army), Robert Conrad (Marines), and Barry Schnipper (Navy) – accepted the invitation from CVMS. They met with a group of seventh-graders and the conversation flowed. The students asked questions about their service, how it changed their lives, what it meant to them and what they think about the world today.
When he was growing up, Jim Scali said that every man in his neighborhood was a World War II veteran so that influenced his desire to join the army in 1966 during the Vietnam War after he graduated high school. There was a draft going on but he went to a recruitment office and joined. By 1967, he was in Korea.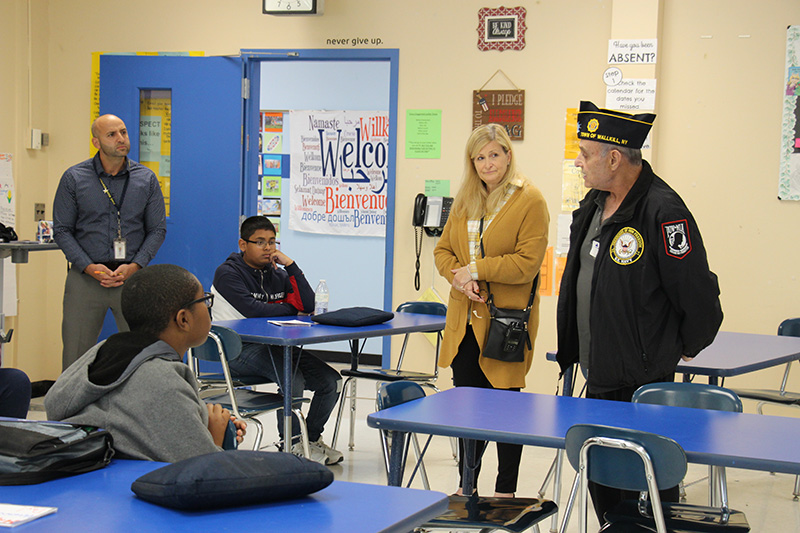 Spending 16 months in Korea made Scali realize the difference in the way of life in Korea compared to home in the United States. It was quite an education, he said, noting the luxuries he grew up with.
"Being in the military helped form who we are," said Scali.
Robert Conrad spent seven months in Somalia. "Kids wore burlap sacks because they had no clothes," he told the students. That was an eye-opener for him.
The students got some advice from Barry Schnipper – know your history! If you don't know it, you may repeat its failures.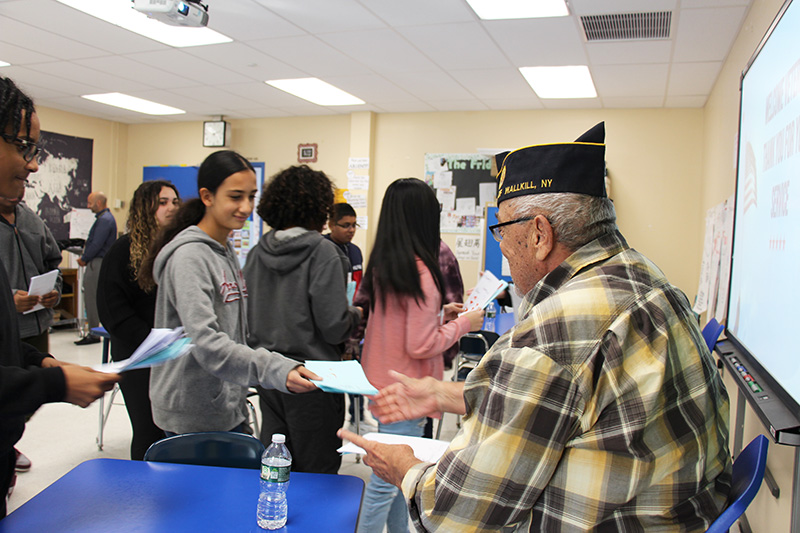 The students answered some questions from the veterans, prompting discussions about the purpose of the military. Some believe the United States has an obligation to help preserve other democracies around the world; others do not. They discussed it respectfully and intelligently.
"We have the strongest and best military in the world," said Scali.
He gave some advice to these young men and women, who will be voting in about six years.
"You are the most powerful force on earth," said Scali. "Never take your freedom for granted."
Schnipper talked about the Vietnam War, explaining that "we helped but didn't do a good enough job." The war was unpopular, he said, and we withdrew. It was a difficult period in our country's history.
The Vietnam Memorial in Washington D.C., arguably one of the most powerful monuments built, lists the names of the 58,257 service men and women who died in Vietnam. The majority of those who died were 19 years old and under.
Fast forward to now. What can students do to support veterans and active duty military? Schnipper said he wants people to take care of our veterans, especially homeless vets.
"Homeless vets break my heart," he said. "Please help the homeless vets."
"I like seeing a flag flying on a house," said Conrad. "Be proud of who you are."
Finally, they discussed war in general.
"No one wants to go to war," said Scali. "The goal of war is peace. Veterans don't promote war. We've seen what it does to people. It creates hatred. There are no winners in war."