The theme at Crispell Middle School on Oct. 24 was "Don't get wrapped up in drugs." And, while a very serious message, part of Red Ribbon Week that was filled with many earnest messages, the students and administrators had some fun in getting those messages across.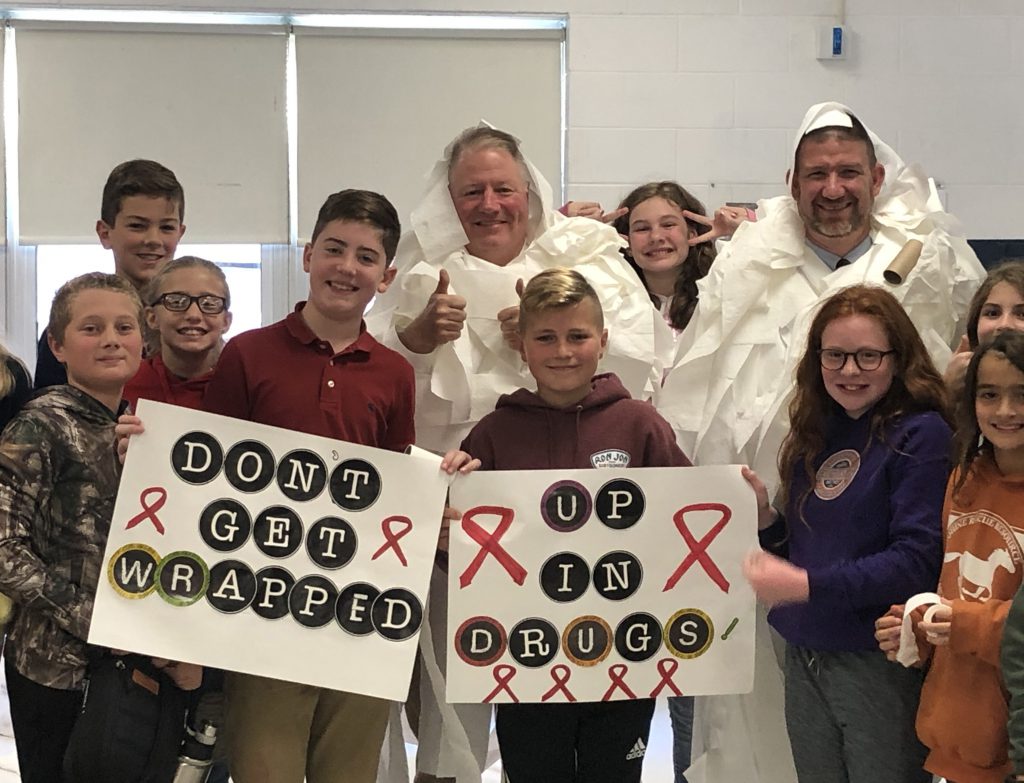 Principal John Boyle and Assistant Principal Christopher Mummery were good sports as student council members in each grade's lunch period came together to "wrap them up" in toilet paper.
This was just one of the activities Crispell students participated in for Red Ribbon Week, a program from the National Family Partnership (NFP) each year from Oct. 23 – 31 to bring awareness and education to students and the community at large about drug use.
Many of the week's activities were student driven, according to Mr. Mummery. There was a daily trivia contest with questions about living a healthy lifestyle and making positive choices sponsored by the student council. Those who answered correctly were entered into a raffle and the winners received gift cards.
There was a day designated for students to wear white to "White-Out Drugs." And another day to wear red, representing the Red Ribbon Week. Announcements were made each day focused on making good choices.
Each grade also made a banner with a positive message which were hung in the cafeteria for the week.
A group of eighth-grade students went to Highland Falls High School for the area's Red Ribbon Week kick off.
"This was a very positive week with so many students involved," said Mr. Mummery. "It was very much student driven. The kids own this message and share it with their peers."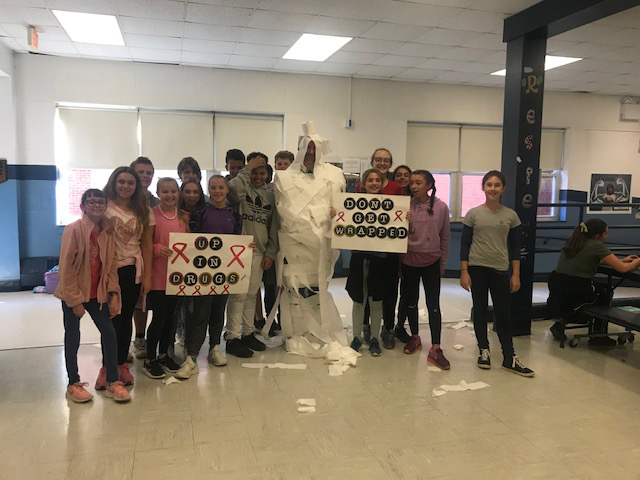 The Red Ribbon Campaign began in 1988 when the National Family Partnership honored the life of Drug Enforcement Administration Agent Enrique "Kiki" Camarena who was killed by drug traffickers three years earlier. Camarena joined the DEA wanting to make a difference and fight illegal drugs and the destruction they cause. Wearing a red ribbon has become a symbol of intolerance toward the use of drugs. The Red Ribbon Campaign's mission is to present a commitment toward a drug-free America.
The Red Ribbon Week Youth Pledge
I pledge to grow up safe, healthy and drug free by:
Understanding the dangers of drug use and abuse;
Respecting myself and being drug free;
Spreading the word to family and friends about the importance of being healthy and drug free.