Imagine walking into the room and having a conversation with Susan B. Anthony about voting rights. Next to her is Ruby Bridges, discussing the courage it took for her and her family to help desegregate our schools. Over in another corner is Babe Ruth talking about the game of baseball from 100 years ago while LeBron James gives a clinic on shooting three-pointers.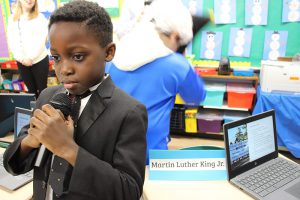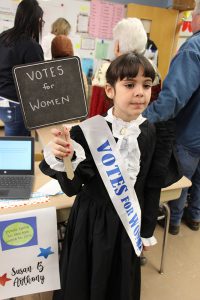 Third-grade students at EJR hosted the next best thing: a living museum! Students chose an integral person in history – they included men and women who helped shape our country to pioneers in science, education, entertainment and sports. They researched their person, learned what drove them to do what they became known for and put together a presentation of their life. The students dressed as their subject too, giving an authentic feel to the museum.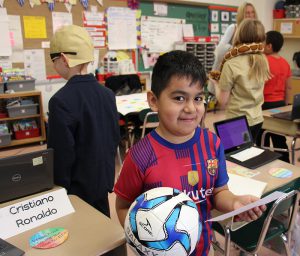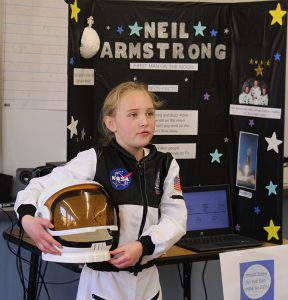 When visitors arrived, they could touch the button on the student's desk and get a synopsis of the life of person.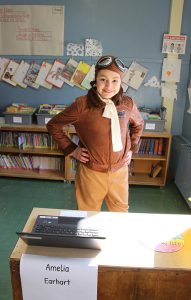 Alexander Hamilton, Elizabeth Schuyler Hamilton and George Washington talked about their contributions to our fledgling country, while Martin Luther King shared how he made it better for Black Americans. Amelia Earhart spoke of her love of flying while Princess Diana talked of how important philanthropy is to the world. Helen Keller showed how vital braille is and Simone Biles talked of her victories in the gym and for those struggling with mental health. There were several versions of Dwayne "The Rock" Johnson; Selena, Shakira. Zendaya, Kelly Clarkson and  Taylor Swift represented the women who made history in the music business.
This is a great way to learn about the people who have been influential in our country, our entertainment, our education and throughout our world! It's certainly an experience these students will never forget.
For more photos of this awesome event, go to our district Facebook page.  Give us a like and follow us while you're there!