A local memorial service is being planned for Mr. Mains. Details will be released on the district website when they are complete. 
The Pine Bush Central School District lost its leader on Thursday, Dec. 30, 2021. It was a sudden and untimely loss of Tim O Mains, who has served as our superintendent for just shy of five years. In that time, Mr. Mains provided just the right leadership our district needed to bring us from where we were to where we wanted and needed to be.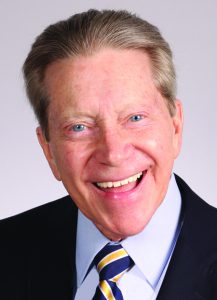 When the board of education hired Mr. Mains in February 2017, according to now-board president Gretchen Meier, it asked that he specifically become involved in the community and to develop a strategic plan for the district. Mr. Mains did both of those things and so much more.
He immediately got to work on the strategic plan he titled "Tomorrow Begins Today," gathering more than 200 volunteers from the greater community, including students and staff, parents and community members. The result was a document producing a five-year plan with a focus on the classroom of the future and, most importantly, educating each individual student while recognizing what they need to achieve success.
As far as becoming part of the community, well, let's just say he actively immersed himself in all things Pine Bush. Mr. Mains showed that one did not have to be born a Bushman in order to love this community and this district.
His goal was to attend at least one game each season for each Pine Bush sports team – at least one but often many more. He cheered on all our teams and tweeted updates. He attended state tournaments whenever Pine Bush teams made the cut and was never a mere spectator but a lively cheerleader.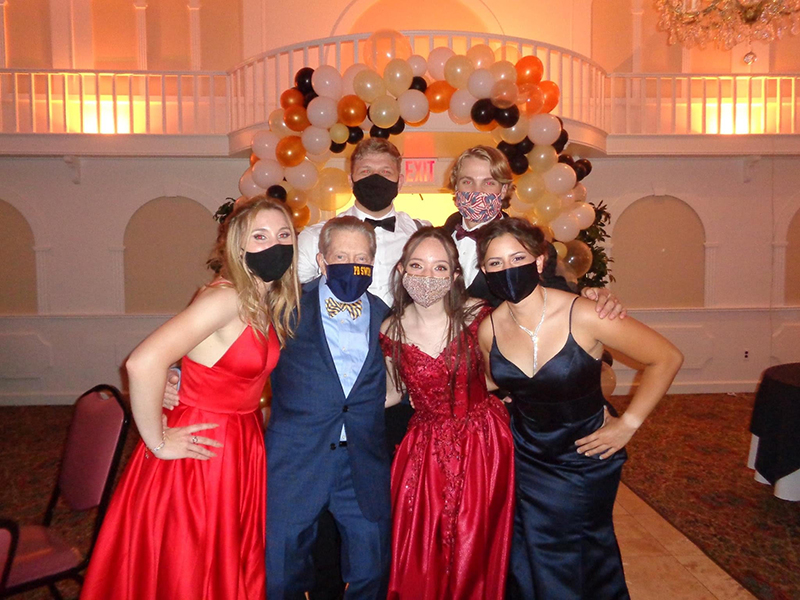 Mr. Mains loved art, music and theater (he had a great singing voice himself!) and was incredibly supportive of the arts here in Pine Bush. He attended all the concerts at each of our seven schools and thoroughly enjoyed them, always amazed at the talented students. He absolutely loved the district's theater program and looked forward to attending all productions at the middle schools and high school.
Pine Bush schools have a wonderful history with the Odyssey of the Mind program – and have had tremendous success! Mr. Mains was an active and avid supporter of the program, attending fundraisers, the competitions locally and at the state level in Binghamton.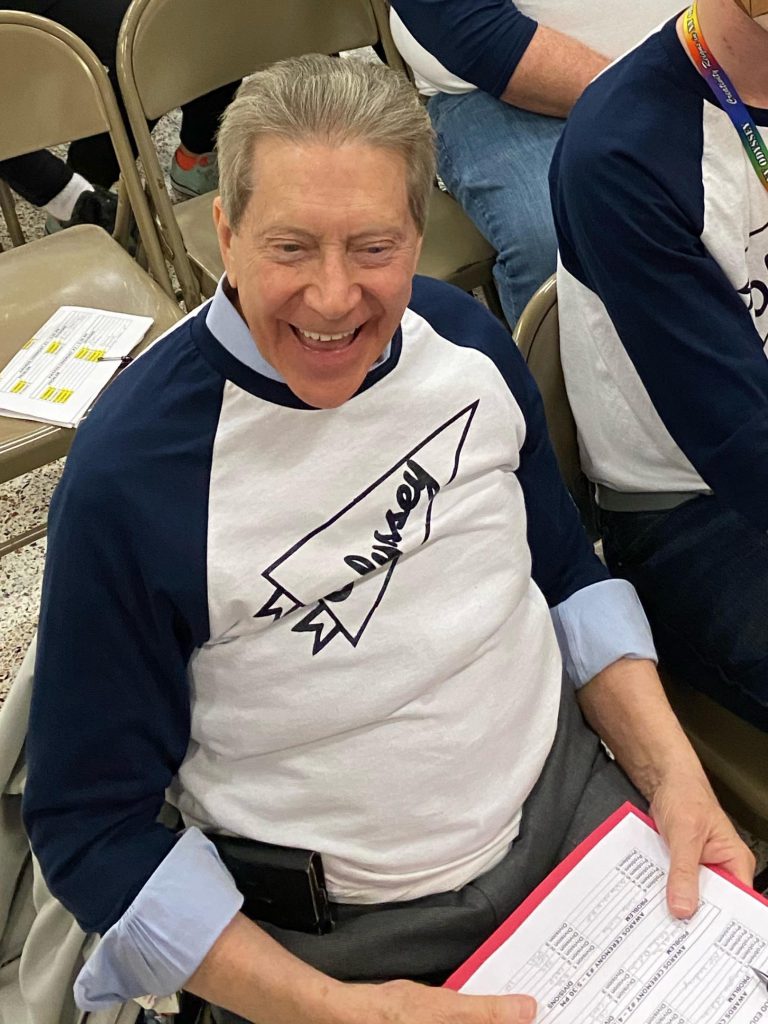 "He was our biggest cheerleader at competitions, proudly bouncing from skit to skit, and spearheading the cheers for our champion OMers," said Lorraine Stapleton, the district coordinator for Odyssey. "He and David (his husband) gladly bought fudge, attended pancake breakfasts, ate dinners at Texas Roadhouse, spoke at ice cream socials, and gave spirited shout outs to the kids and the Odyssey program during his opening day keynote speeches."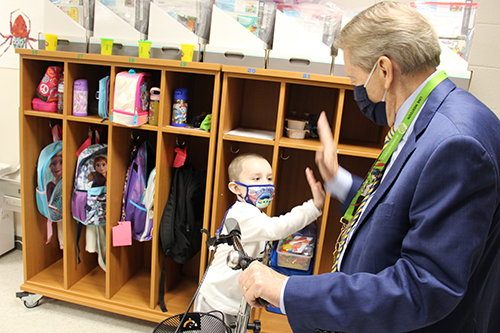 For most in the education field, the first day of school brings excitement and joy. For Mr. Mains, it was an event. His first-day-of-school tradition was to visit every classroom in every school, talking with all teachers and students, wishing them well for the year. His energy was boundless! Because of the pandemic, he missed this tradition in 2020 but he picked it up again in 2021, even with a fractured ankle. He used a scooter to get around! But it was worth it as he was greeted with air high fives from students in pre-K through high school. Because of his regular classroom visits and attendance at district events, students knew him and felt completely comfortable with him, which is just how he liked it.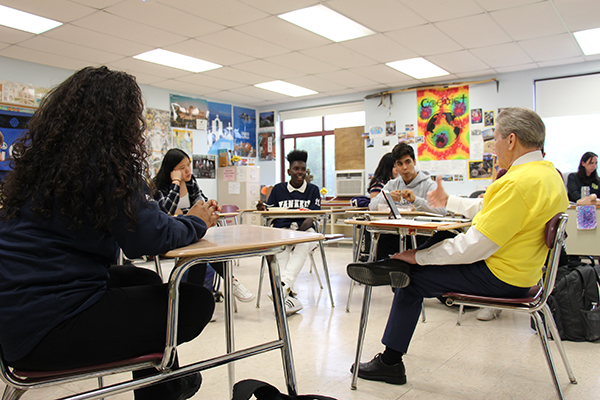 He wanted students to know that their concerns were important to him so he created "Lunch with the Superintendent" for PBHS students. Students were invited in a small group to have lunch with him in a classroom. It gave them the opportunity to let him know what they were thinking and feeling and what was important to them. He took it all in and acted on their suggestions.
Mr. Mains was not a superintendent who spent a lot of his time behind a desk, at least not during the school day. He was in the district, in the community, truly getting to know the students, parents, teachers, staff and residents. His pride was on full display at the senior dinner, handing out diplomas each June, speaking at the moving-up ceremonies for each elementary school and middle school, cheering at the cardboard/duct tape boat races, sharing a meal at the annual multi-cultural potluck dinner and just saying hello in the hallway.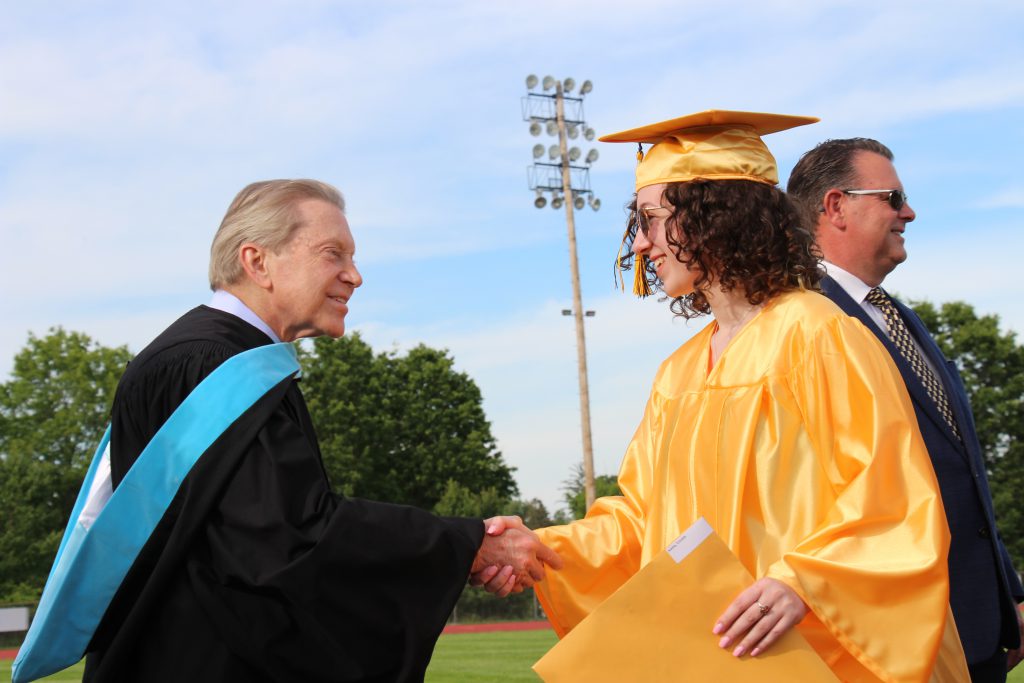 When he was behind his desk, he treated every parent, every community member with care. He personally answered his pages of emails and returned calls because everyone mattered to him. When you talked with him, you knew you mattered. He was interested in your life, in what concerned you. He was genuine. And transparent. He was patient and kind with everyone, no matter the circumstance. Mr. Mains presented to community groups each year at budget time to explain the details of the proposed budget. He stayed however long was needed to answer all the questions asked. He was the voice of Pine Bush to our local, regional and state elected officials to lobby for funding and support, and make them aware of the needs of our students.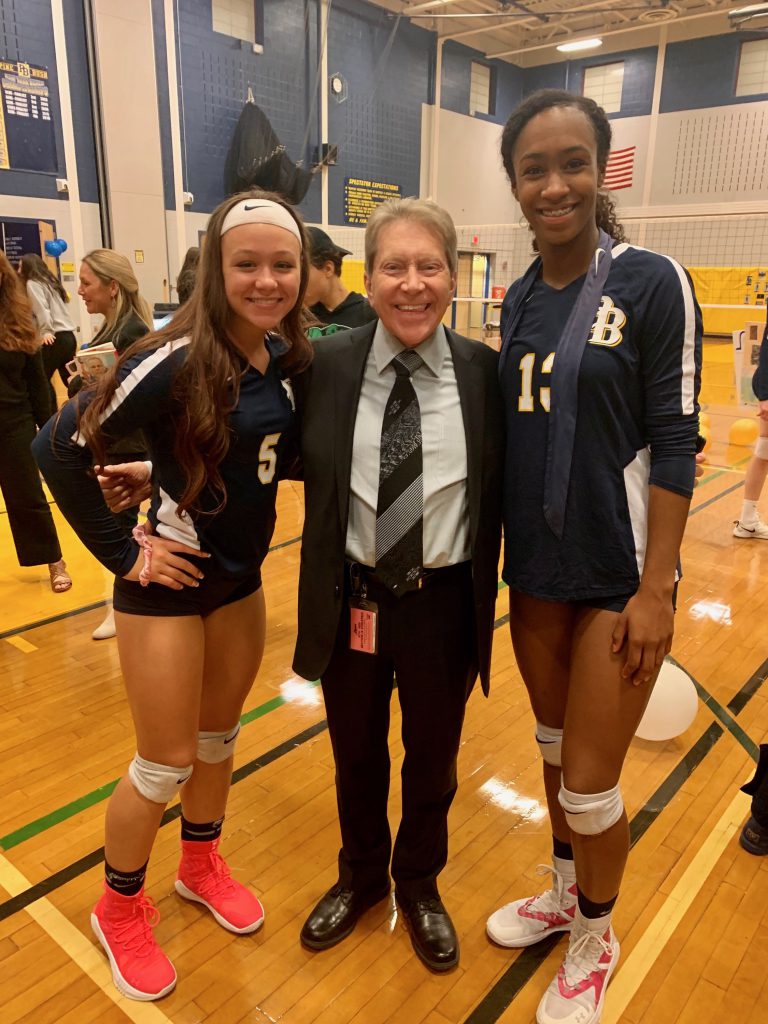 In addition to students' success, Mr. Mains also provided for their safety and their character development. He partnered with local police to bring school resource officers to each school in the district. He was totally committed to the district's partnership with the Anti-Defamation League's No Place for Hate program, building character and teaching acceptance to our students.
What many do not know is that Mr. Mains was a trailblazer. In 1985, he was the first openly gay person in New York state to be elected to public office. He went on to serve 20 years on the Rochester City Council with distinction. He worked diligently throughout his life for social and economic justice.
Before he came to Pine Bush, he had a full career in education out in western New York. He was a social studies teacher, a counselor, a principal and superintendent. He managed academic planning and career preparation for students, designed and taught leadership training courses, taught Active Parenting of Teens and led parent support groups.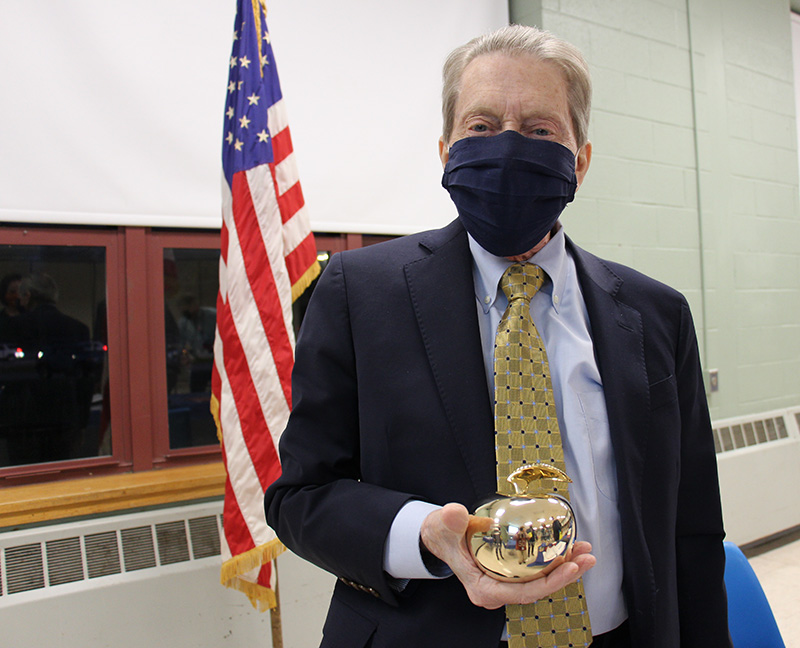 Mr. Mains was honored in the spring by the Mid-Hudson School Study Council with the Golden Apple Award for dedicating 50 years to education. Dedicated he was! He was proud of the increase in the Pine Bush graduation rate under his leadership. He supported the programs that gave students an edge, such as summer academies, STARS Academy, STEAM programs starting in the elementary schools and the Gene HAAS Innovation Center, to name a few.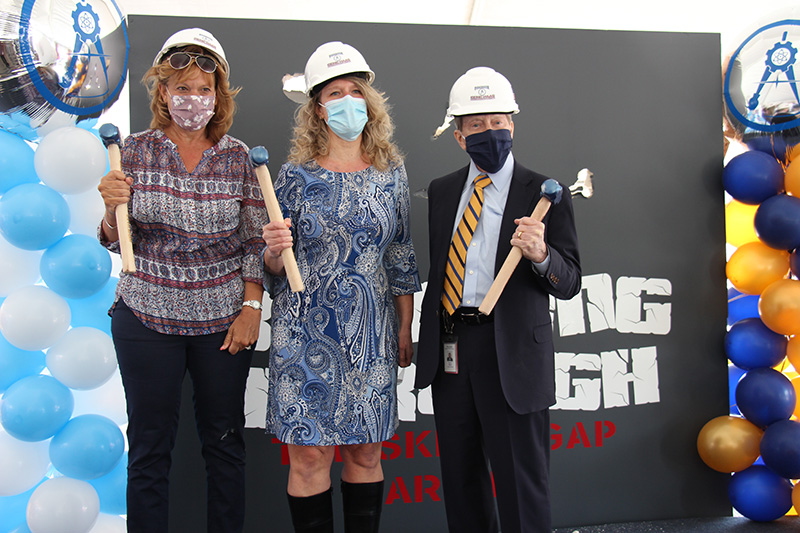 Superintendent Mains earned the respect of those with whom he worked. He was always a teacher at heart, mentoring many in our own district as well as the districts in which he worked before.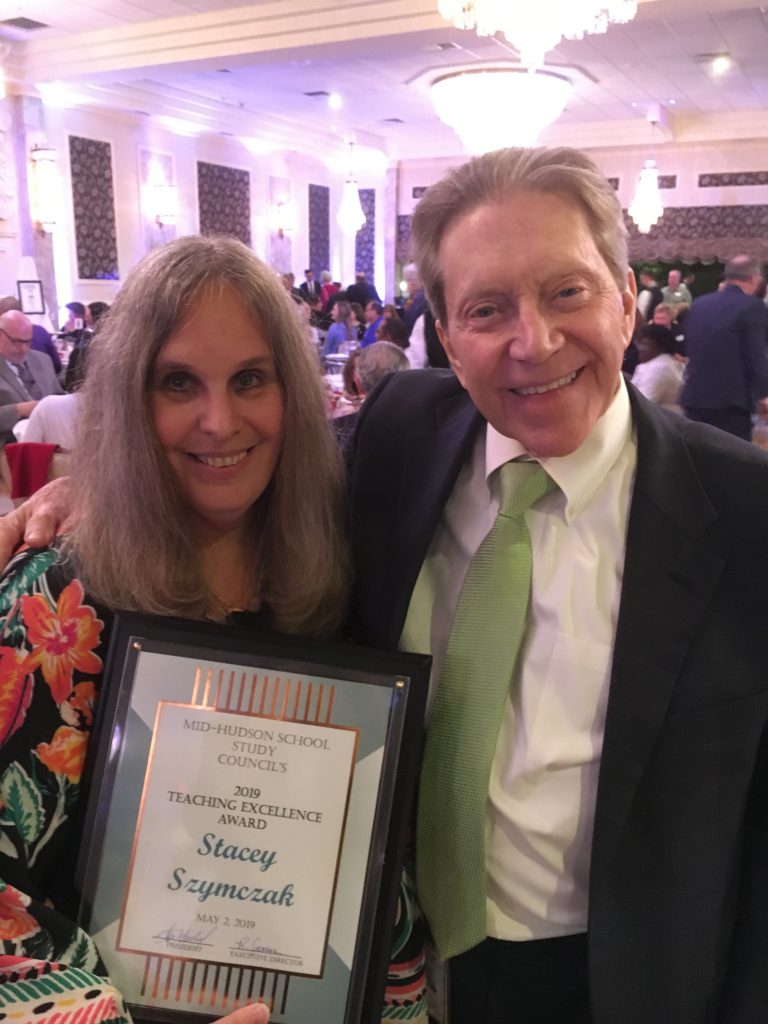 His smile lit up a room. His laugh was deep and boisterous – and you could hear it from quite a distance. He had an enthusiasm that was contagious, a passion admired by all who met him. He was a huge presence; compassionate and caring. He saw the best in everyone and helped them to achieve it.
For Mr. Mains, the purpose of his journey in education was to make a difference in children's lives, to assist them in their success, whatever that would be. He often said this is not a one-size-fits-all world and our schools shouldn't be either. He worked tirelessly, passionately to provide what every individual student needed to reach their success.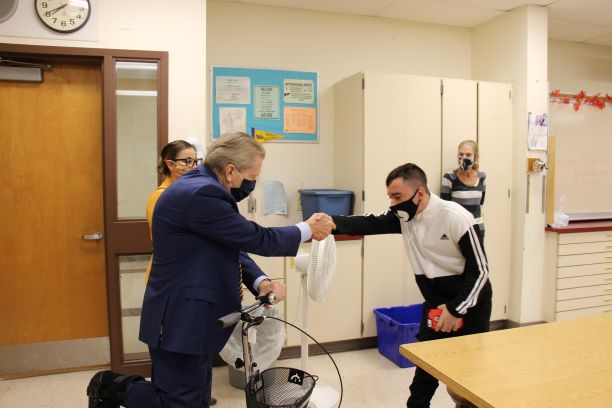 When our world was hit with a pandemic, Mr. Mains was a true leader for our district. He made many difficult decisions but always with the health and safety of our students and staff at the heart of it. To support our community, he supported the creation and distribution of face shields to local hospitals, nursing homes, police departments, medical offices and businesses when there was a shortage. He worked with the county department of health to bring two vaccine clinics to our high school, providing our community with a convenient site to be vaccinated.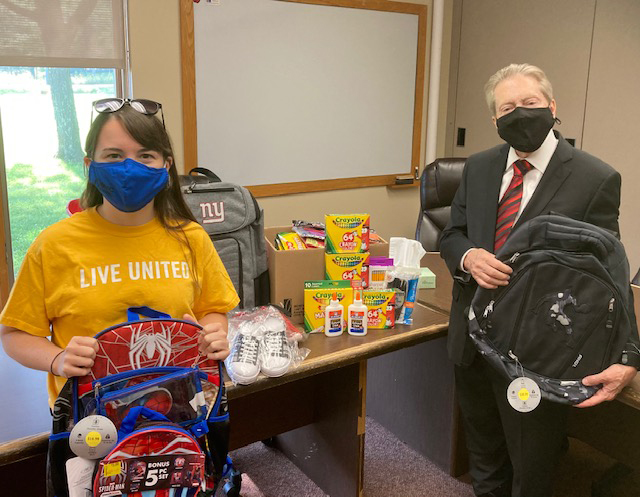 While the world shut down, Mr. Mains made his way into our homes every evening with a phone message to bring reassurance and hope during the darkest of days. He was the calm in the storm.
When the board of education hired Tim O Mains and asked him to become part of the community, they could never have imagined how much an integral part of the community he would be. They couldn't have known he would immerse himself, grow our district programs, build a connection with business leaders and police, make everyone feel safe and cared for. He effected purposeful change and brought strength, optimism and enthusiasm to our district.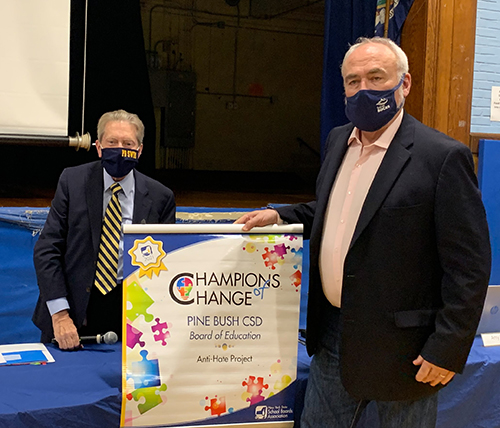 Although Mr. Mains may not have had the opportunity to complete all his goals for our district, he shared his vision and taught us all the path to get there.
Pine Bush is a better district because Mr. Mains was our leader. While we are all profoundly saddened by his passing, we are beyond grateful for what he has selflessly given to all of us.
In addition to his Pine Bush family, Mr. Mains leaves behind his beloved husband, David P. Gardner, who is part of our district family as well; one brother and one sister and many nieces and nephews. View the full obituary here.
Rest in power and peace, Mr. Mains. You will never be forgotten.