It's official!  Alumni Field is now open for business!
On Tuesday, Sept. 12, the district held it dedication ceremony for the new Alumni Field with approximately 150 students, residents and alumni in attendance. (To view the video, click here.)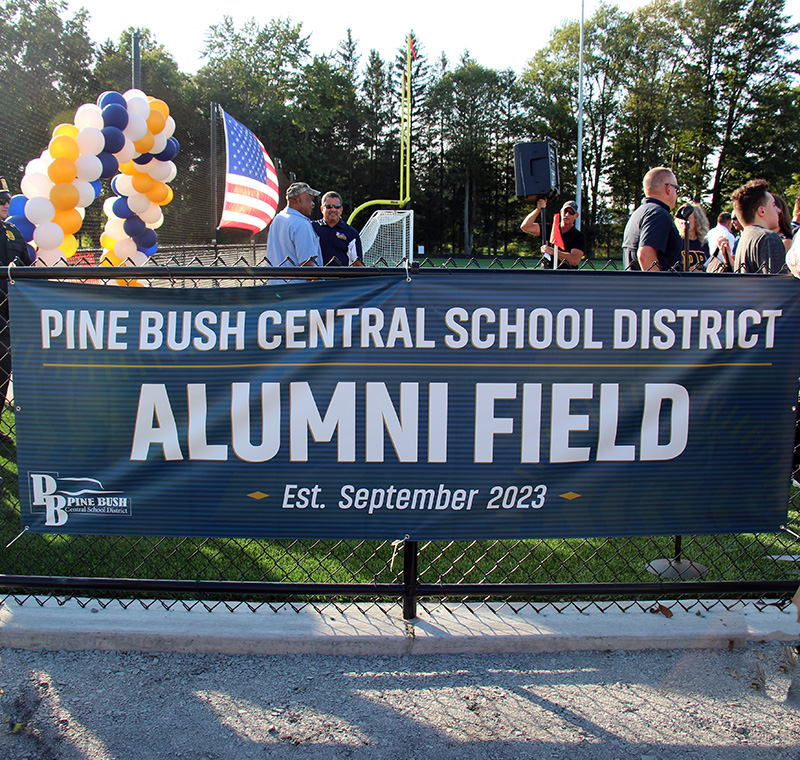 Superintendent Brian Dunn welcomed everyone to the dedication, including members of the Pine Bush High School Choral Department, the girls' varsity soccer team, many district administrators and employees, board of education members, former superintendent Bill Bassett, along with Town of Crawford Supervisor Charlie Carnes and Police Chief Dominick Blasko.
The district's Athletic Director Mike Gillespie thanked the board of education and the administration for their support with this project and looked forward to all who will get to enjoy it.
"I hope that those who have previously graduated can come back and enjoy, attending games here in the future and that they will look upon this facility with a feeling of pride in their part of our athletic history," said Mr. Gillespie.
Board of Education President Gretchen Meier thanked the Central Design team for creating this plan before COVID so that it was ready to go.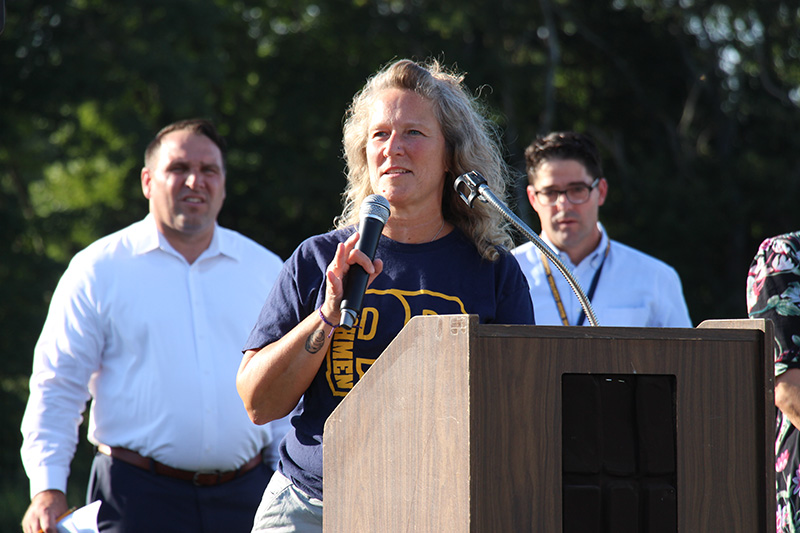 "I'm excited that the central design team, that included (former superintendent) Tim Mains, (former assistant superintendent for business) Mike Pacella, Jim Licardi, Mike Gillespie and everyone else on there…you were so important in creating this plan before COVID to allow us to get here today," she said. "I am grateful that the current administrative team and Mike Gillespie had the stamina to get this approved. A huge thank you to Brian Dunn, Joe Lenz for reactively using this plan in getting us here today. This field will surely enhance our athletes' experiences."
Speaking on behalf of the girls' varsity soccer team, the first to compete on the new Alumni Field, Captain Taylor Hoehmann expressed her gratitude to the administration and board of education for their part in completing the turf field. Flanked by her fellow captains Morgan Tubbs, Deirdre Meberg and Kileigh Smykla, she thanked all who have supported them and voiced the honor the team feels.
"We thank coaches (Dan) Conley, (Candice) Carillo and Clark Najac for your commitment to our program, Mr. (Jim) Licardi and his buildings and ground crew, as well as our parents and community for their constant, unwavering support," said Taylor. "We are all very honored to be the first Pine Bush team to be playing on the new Alumni Field and we strive to set the standard for future sports teams who get the chance to play on this very field."
Superintendent Dunn gave a shout out to Assistant Superintendent Joe Lenz for developing the plan to use federal and state funding "to parlay that into an amazingly new athletic space but also a space for our physical education department and for all of our students."
He continued, "Joe Lenz came up with this idea a little over a year ago and look where we are right now. You're an amazing administrator."
He said naming a field can be daunting, with so many deserving people. He asked Jim Licardi who suggested Alumni Field.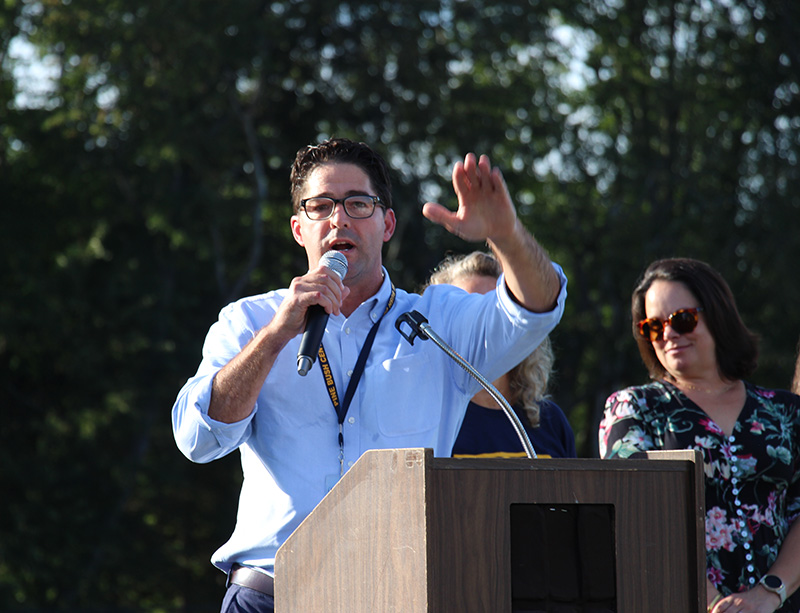 "This gives homage to the deep history and traditions of Pine Bush, which now I'm a part of and so proud to be a part of it," said Superintendent Dunn. "I just think you nailed it," he said to Mr. Licardi. "Thank you for all you do for Pine Bush."
The superintendent gave a peek into the board meeting that was held later that evening by introducing Deirdre Meberg, one of the captains who would be receiving recognition from the board for scoring a perfect score on her AP English exam.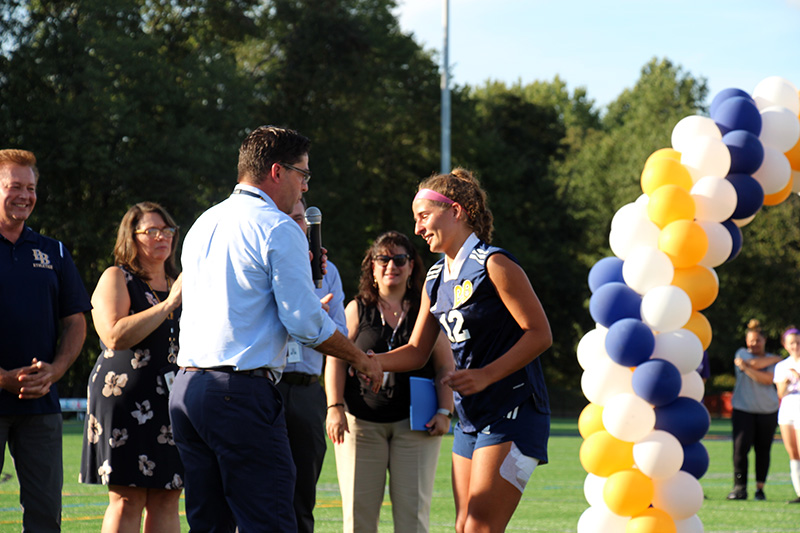 Members of the Pine Bush High School Choral Department, led by Nicholas Ruggeri, sang the alma mater and a beautiful rendition of the Star-Spangled Banner.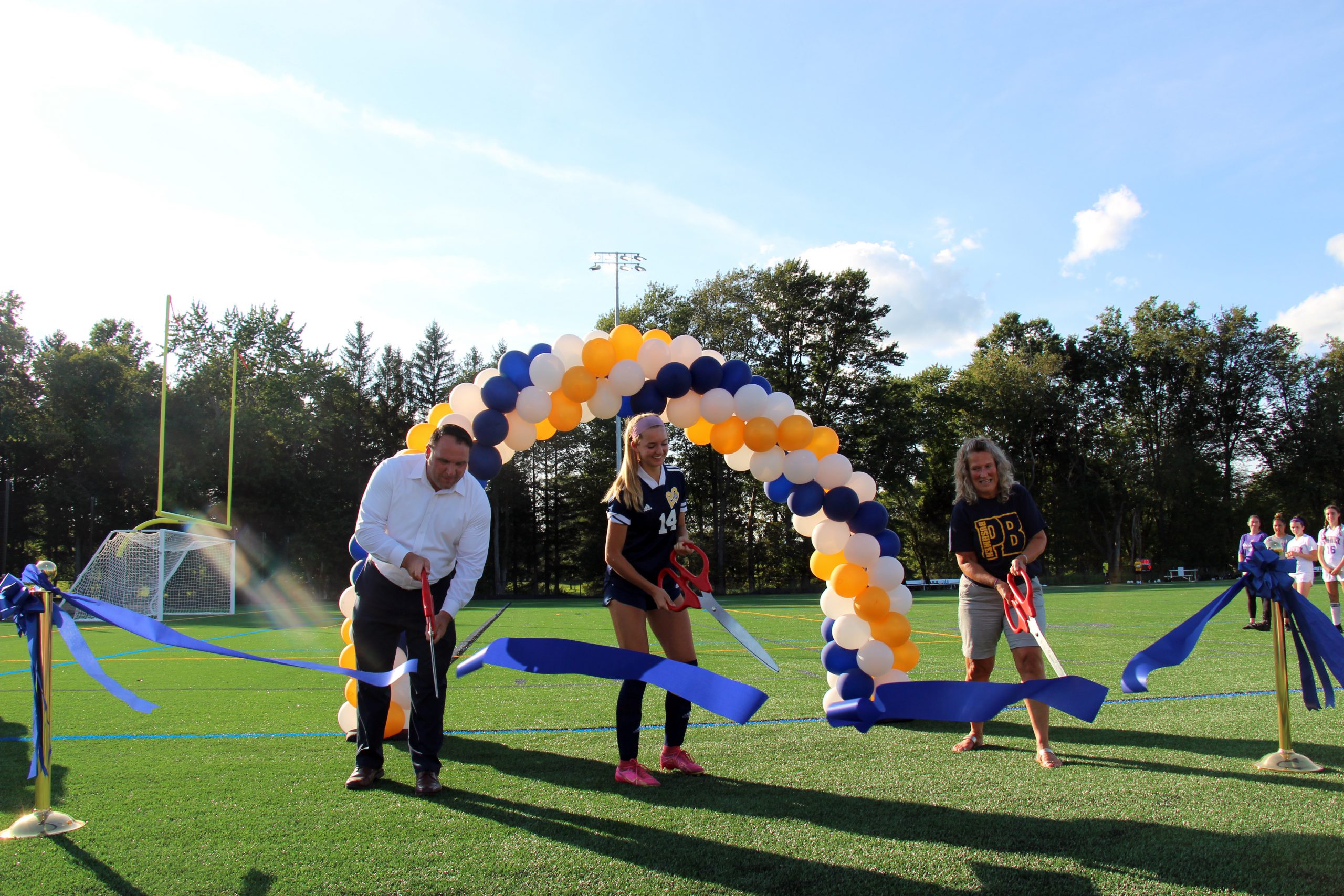 Then it was time to cut the ceremonial ribbon and open Alumni Field. Mr. Gillespie, Ms. Meier and Taylor Hoehmann did the honors as Superintendent Dunn handed the scissors over to the soccer captain.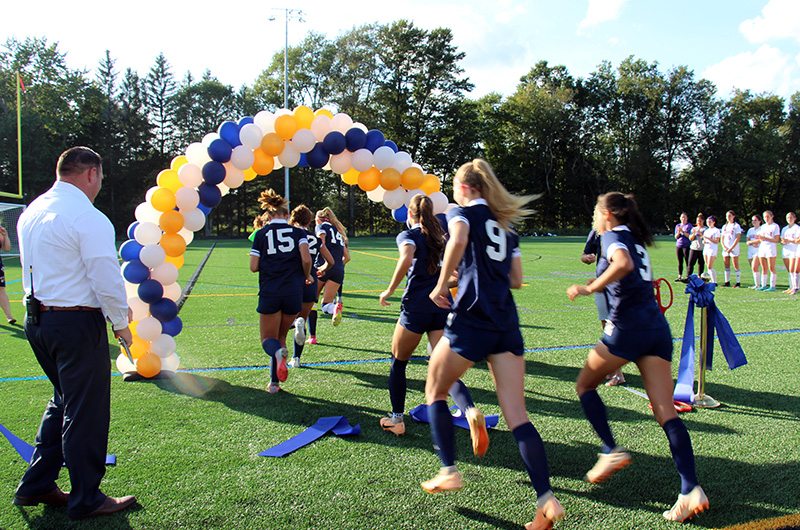 Congratulations to all who will have the opportunity to play on this amazing field!