All schools in the Pine Bush Central School District are designated as "No Place For Hate" schools. The district, which received its designation in 2015, was recognized at that time as one of the few districts in the state to adopt the "No Place For Hate" program in all seven schools in the district. 
Click here or on the graphic for the 2020-2021 No Place for Hate Celebration video, featuring some friends from PAK.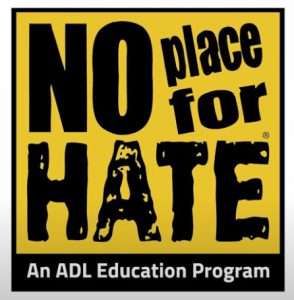 About the Program
No Place for Hate is a program led by the Anti-Defamation League that provides PreK-12 schools with "an organizing framework for combating bias, bullying and hatred, leading to long-term solutions for creating and maintaining a positive climate."
No Place for Hate Promise
I PROMISE, to do my best to treat everyone fairly.
I PROMISE to do my best to be kind to everyone – even if they are not like me.
IF I SEE someone being hurt or bullied, I will tell a teacher.
EVERYONE should be able to feel safe and happy in school.
I WANT OUR SCHOOL to be No Place for Hate.
Resolution of Respect
The Pine Bush Central School District Board of Education reaffirmed its commitment to the No Place for Hate promise and approved the No Place for Hate Resolution of Respect at its Oct. 25, 2022 meeting:
"We pledge from this day forward to do our best to combat prejudice and to stop those who violate someone's civil rights. We will seek to understand those who are different. We believe that one person can make a difference and that no person should stand by when it comes to opposing hate. We will speak out against prejudice and discrimination. We will reach out to those who are victims of hate. We know that we must all promote harmony, equality, and respect. By signing the pledge, we commit ourselves to creating a community that is No Place for Hate."
Program Goals
Building inclusive and safe communities in which respect is the goal, and all students can thrive.

Empowering students, faculty, administration and family members to take a stand against hate and bullying by incorporating new and existing programs under one powerful message. 

Sending a clear, unified message that all students have a place to belong.