All schools in the Pine Bush Central School District are designated as "No Place For Hate" schools. The district, which received its designation in 2015, was recognized at that time as one of the few districts in the state to adopt the "No Place For Hate" program in all seven schools in the district. 
Click here or on the graphic for the 2020-2021 No Place for Hate Celebration video, featuring some friends from PAK.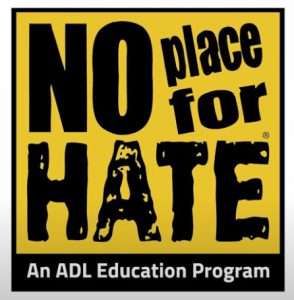 About the Program
No Place for Hate is a program led by the Anti-Defamation League that provides PreK-12 schools with "an organizing framework for combating bias, bullying and hatred, leading to long-term solutions for creating and maintaining a positive climate."
Program Goals
Building inclusive and safe communities in which respect is the goal, and all students can thrive.

Empowering students, faculty, administration and family members to take a stand against hate and bullying by incorporating new and existing programs under one powerful message. 

Sending a clear, unified message that all students have a place to belong.