What better way to show your love for humankind than to donate blood.
The Pine Bush Central School District nurses are sponsoring a blood drive on Thursday, Feb. 20, at Circleville Middle School library from 1:30 to 7:30 p.m.
Donating blood is a selfless act. Every day, blood transfusions save the lives of people all over the world. Human blood cannot be manufactured. People are the only source. That's why it is important to donate blood if you are able.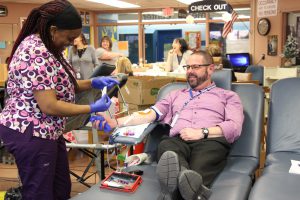 This blood drive is open to the public. It is one of three they schedule throughout the school year. Vitalant is the company running the drive. Walk-ins are welcome but appointments are preferred. Click on this link to make an appointment, or call 201-251-3703.
A perk of the blood donation process is receiving a free mini health exam, including the following screenings: cholesterol, blood pressure, temperature, iron, pulse and blood typing.
Here are the requirements to be eligible to donate blood. You must:
Be at least 16 years old (16- and 17-year-olds must bring a signed permission form from a parent or guardian, if required by state or school).
Weigh at least 110 pounds.
Be in good general health. If you have a cold, take care of yourself and donate next time.
Eat within two hours ahead of your donation.
Drink plenty of water before and after donating. And be sure to help yourself to something to eat and drink in our refreshment area.
Bring your ID—something with your name and one of the following: date of birth, donor ID number or your photo.
Wait eight weeks between whole blood donations.
Not be under the influence of alcohol or recreational drugs at the time of donation.
If you go
Pine Bush Central School District Blood Drive
Circleville Middle School library
Open to the public
Thursday, Feb. 20, 1:30 to 7:30 p.m.
1951 Route 302, Circleville
Register at: 201-251-3703 or here