Pine Bush High School, in partnership with the Hudson Valley Council of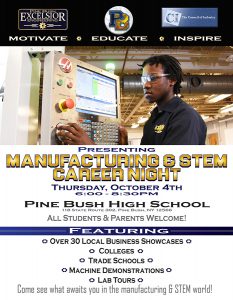 Industry and the Society of Manufacturing Engineers (SME), will be hosting Hudson Valley Manufacturing Day on Thursday, Oct. 4, from 6 to 8:30 p.m.
Parents and students are invited to attend a presentation about the manufacturing industry, meet with prospective employers who are currently looking to hire future high school graduates and meet with local colleges and trade schools which are providing additional training in support of these careers.
One of the goals of this event is to introduce students and parents to the potential of pursuing careers in manufacturing and to expose them to the jobs in the science, technology, engineering and math (STEM) field.
"The manufacturing sector has been growing and, due to a variety of reasons, businesses are having a difficult time hiring skilled workers to fill their positions," said Aaron Hopmayer, principal of Pine bush High School. "Many people have an outdated perception of manufacturing, and nearly all of the jobs from a generation ago have either been automated out of existence or moved off shore in search of cheaper labor. The manufacturing jobs that remain are focused on designing, operating, maintaining and programming the machines that are doing a lot of the actual manual labor that used to be done by humans."
Many Hudson Valley school districts have students who attend BOCES Career and Technical Programs and or trade schools. This event will provide students and parents a forum to meet with prospective employers and representatives from post high school training programs. In addition, attendees may take a tour of the Pine Bush High School Innovation Center and STEM Lab where students are being prepared for these next generation jobs.
For more information about Hudson Valley Manufacturing Day, contact Hopmayer at 845-744-2031 ext. 3601 or email aaron.hopmayer@pinebushschools.org.