Shows are on Friday, Jan. 31 and Saturday, Feb. 1
The Crispell Drama Club will present Frozen Jr. on Friday evening, Jan. 31, and two shows on Saturday, Feb. 1, at Pine Bush High School.
Frozen Jr. is based on the Broadway musical and brings Elsa, Anna and the land of Arendelle to life onstage. It's a story of true love and acceptance between sisters who discover the powerful bond of sisterhood. There is magic, adventure and plenty of laughs.
A big production
Six years ago, Robin Evans directed the very first production to come out of Crispell, Seussical. While the show was great, Ms. Evans admits the costumes and sets were pretty bare bones. That is not the case with Frozen.
"I am really pleased with the spectacle this has become," said Ms. Evans. "The costumes are just beautiful and we will have 'snow' on the stage. It's just amazing."
The director couldn't be happier with how the show is progressing.
"This is a show with a lot of leads and many male characters," said Ms. Evans. "It is perfectly cast!"
Look for a special appearance by Ms. Evans' twins as baby Elsa and baby Anna.
Frozen fans
This is a particular thrill for Grace Salsbury and Lily Deckaj, who play Elsa and Anna, respectively. They are both big Frozen fans, seeing the original movie when they were just little girls. They love the story, the music, the songs. The theme of sisterhood is not lost on them.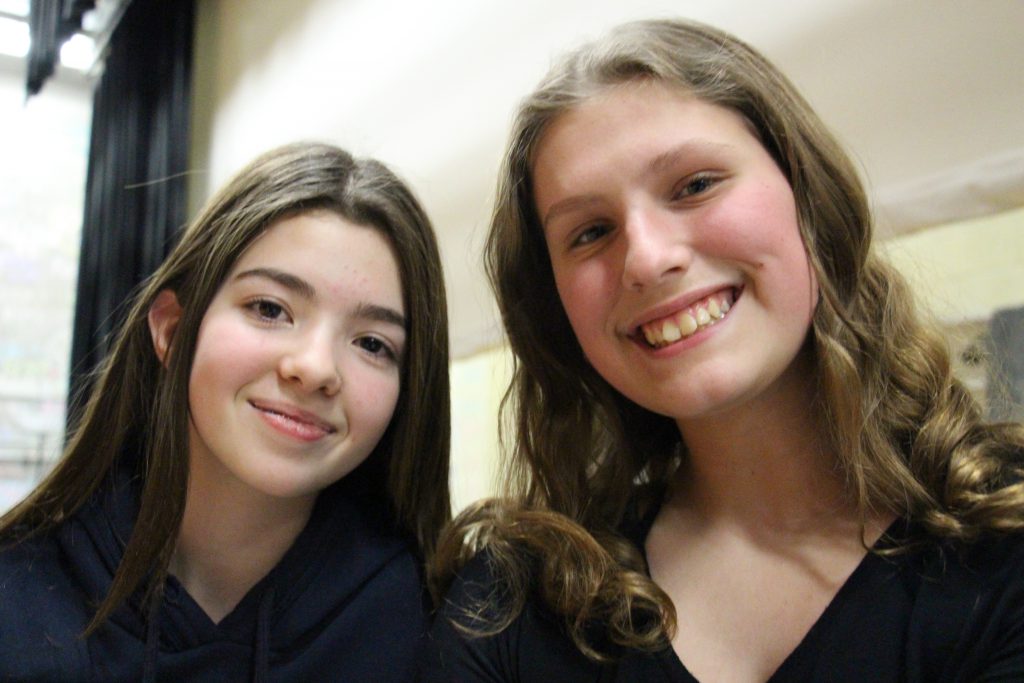 "Yes, we know this is a story about sisterhood," said Grace, who starred in last year's production of Junie B. Jones. "We've always been really close."
"I feel I know you even better now," said Lily.
Lily's favorite part of the show is when she sings Love is an Open Door. "I get to sing a song with my best friend, Travis (who plays Hans). And we get to dance!"
Grace is most looking forward to singing "Let It Go," a pretty big moment in the show.
This production, though is not a carbon copy of the first movie. It is based on the Broadway musical and there are some different songs.
"It took a while to learn the new songs," said Grace, "but we did it."
The village that is Crispell drama
While sixth through eighth graders are the stars of this production – 80 students are participating in this production – the reach of this production is even larger. Ms. Evans gave a shout out to Lisette Ruiz, a former Crispell parent who has helped with costumes in every production Crispell has produced, as well as community members Mark and Cynthia Coleman who are a big help with the sets.
Ms. Evans also brings back some former students to serve as interns. They are vital to the production and come with the experience of being in past Crispell productions.   
At this particular rehearsal, interns Daniella Deckaj, Julia Almeida and Jeremy Henry were on hand. They do everything from paperwork to helping with costumes to running the music to keeping the actors focused on where they are going next when they aren't on the stage.
"We do a lot with the actors," said Julia. "We make sure the kids are where they are supposed to be."
"I like helping the kids," said Jeremy. "We've been in their shoes before."
Daniella said this production is pretty special. "The set and costumes are phenomenal. And Olaf is very funny."
Make your plans to see Frozen Jr., presented by the Crispell Drama Club. It will be so worth it!
Frozen Jr.
Presented by Crispell Drama Club
Friday morning, Jan. 31 – Free show for all district first grade students
Friday, Jan. 31 at 7 p.m.
Saturday, Feb. 1 at 11 a.m. and 5 p.m.
Meet and Greet the Cast – Saturday, 1 to 2 p.m. and 3 to 4 p.m.
Pine Bush High School
Tickets: $8 adults; $6 seniors and students; children under 5 are free